The Safe Digging Process. Four simple steps that could save your life.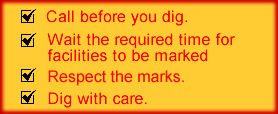 Private homeowner or professional contractor, it is very important that you call the one-call utility notification center before digging. All states have established one-call notification centers and require by law that you call 48 to 72 hours before digging
Careless digging threatens pipelines and other underground facilities and, consequently, people. Each year underground facilities are damaged during excavation. This involves hundreds of thousands of incidents, with many of these incidents resulting in injuries and fatalities.
Use of the one-call process, along with other damage prevention initiatives, has significantly increased excavation safety. One-call centers in the U. S. process tens of millions of incoming locate tickets annually. However, excavation damage still occurs, and a major reason is that many people still do not call before digging. They may simply neglect to call or they may consciously decide not to call. They might be concerned about project delays or costs; they might assume there are no underground facilities affected; or, they may believe that previous calls for other project suffice. However, failure to call each time before digging can lead to hazardous consequences.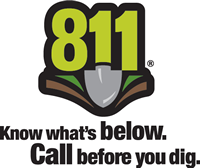 Every digging project requires that you call the one-call center before digging – even small projects like planting trees or shrubs. If you hit an underground utility line while digging you could harm yourself and those around you and disrupt vital services to an entire neighborhood or community. You could also be responsible for fines and repair costs.
Now you can simply dial "811" to reach the one-call center, regardless of where you are digging. Digging safely means calling 811 before each job. Whether you are a homeowner or a professional excavator, your call to 811 allows affected facility operators to locate and mark their underground facilities in the area in which you are digging. There is no cost to you — even the call is free — so Call 811 Before You Dig. Follow this link for more information on 811.
If you can't connect to the one-call center by dialing 811, dial 1-888-258-0808 to get a toll-free direct-dial number for the one-call center in your area. Remember, it is your responsibility — you must call before digging.
When you call, the one-call center will collect information about the location of your intended dig and then contact the companies that may operate underground facilities in that location, facilities such as hazardous liquid and natural gas pipelines, telecommunications systems, electrical utilities, and sewer and water pipelines. Those companies must, by law, determine if their facilities could be affected by your excavation. If so, they must visit the excavation site and mark the exact location of their facilities with flags or paint. State laws specify how much time they have to perform these actions and, thus, how far in advance you must call before digging.
Don't assume that you know what's below. Protect yourself and those around you. Call 811 before you dig, every time. The call is free and there is no cost to you for having the underground lines marked.
It is your responsibility to call before you dig, wait the required time for facilities to be located and marked, respect the marks and dig with care to avoid damaging underground facilities.
Remember - these four steps could save your life and the lives of others.