The applicable regulations addressing protective coating are §192.461 for gas pipelines and §195.559 for hazardous liquid pipelines. Additional discussion on coatings can be found at the Stakeholders Communications web site and the PHMSA presentation on Construction and Pipeline Coatings which was given in the April 23, 2009 workshop on new pipeline construction issues. Some specific considerations for coating applications during construction are provided below:
Field Joints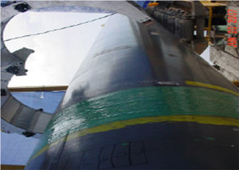 The coating cutback can be too small or too large – The coating manufacturer's instructions on the coating cutback distance must be followed to ensure long-term bonding of the material to the pipe.
Proper pipe surface preparation is a must. PHMSA inspection has seen instances where the surface was inadequately cleaned. The pipe should be sand blasted and then preheated as instructed by the coating manufacturer.
Care must be taken in the application of coatings in the field. Shielding may be needed to avoid dust or rain water contamination. Following the coating application, v coating thickness must be verified to ensure the manufacturer's specifications have been met.
Coating Inspection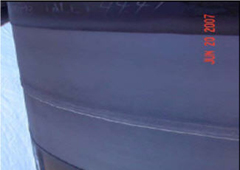 Prior to backfilling, the entire pipeline should be visually inspected by trained and qualified inspectors.
Inspection for coating holidays should use properly calibrated equipment. The inspection process must ensure that the proper voltage is used. Equipment calibration and use must be in accordance with the manufacturer's specifications. Particular attention should be paid to identification of damage by weld bands.

PHMSA inspection has seen the following types of concerns when inspecting new pipeline construction:
Coating - Fusion Bonded Epoxy Issues

Coating over mud or rust
Application temperature too hot or cold
Heat damage to the factory FBE coating
Failing to follow manufacturer's instructions
Sand blast technique - no correct bevel / no overlap at factory coating
Coating in high wind with blowing dirt
Water in the pipe during heating – does not allow for uniform heating
Coating specifications not available to inspectors
Girth weld coating not fully bonded to pipe

Coating - Melt Stick

Failing to follow manufacturer's instructions
Not adequately heating pipe before application
Inadequate surface preparation - abrasion
Use on defects larger than 0.5 in2
Application over two part epoxy
Improper accelerated drying by patting
Use on bare metal

Coating - Electronic Defect Detectors (Jeeping)

Failing to follow manufacturer's instructions
Low voltage setting on holiday detector
Inadequate training of inspectors and contractors
Jeeping over tape and fiberboard stuck to the pipe
Failing to adequately clean the pipe before jeeping
Failing to visually inspect pipe for coating defects
Using damaged (bent) detector springs
High resistance in electrical circuit
Jeeping at too fast a speed per the spec or manufacturer
Jeeping over coating repairs before they are dry
Detector failing to identify defects
Detector not calibrated per manufacturer

Coating - Two Part Epoxy Issues

Failing to follow manufacturer's instructions
Inadequate surface prep - abrasion
Application after epoxy starts to set
Inadequate mixing of the epoxy
Applying above or below recommended temp - or not pre-heating pipe
Using unapproved IR temperature sensors